Course of advancement: comparing West's college-level courses
For students seeking college-level courses at West, there are three main choices: AP classes, Kirkwood classes and UI classes. WSS looks into the benefits of each option.
As non-seniors prepare for the upcoming year, some more academically motivated students will seek classes providing them with a college experience and offering more challenges than the normal curriculum. College-level classes offer high schoolers the ability to earn college credit, often at a fraction of the cost of a typical class, as well as the chance to experience a rigorous, college-level curriculum. At West High, there are currently three main ways to take college-level classes: attend AP classes in the building, enroll in Kirkwood classes at the regional center or take classes at the University of Iowa. These three differ quite a bit in travel time, cost and credit offered. Take a look below to see which one suits you best.
AP classes
AP classes are the most common way students at West receive college credit, simply because they're the easiest to access. There are over 20 of them offered at West in every subject area: math, science, social studies, English and foreign language. Students of all ages can take them, while Kirkwood and UI classes are only open to juniors and seniors. They're held at West, so finding transportation isn't needed, and you can sign up for them on your registration form. They only take one period each, which means that you can fit more of them in your schedule.
The main fee associated with them is the $94 needed to pay to take the AP exam associated with each class, which is necessary to receive college credit, but students aren't required to take the test at the end of the year. Starting next year, AP courses will contribute to a weighted GPA here at West.
"AP is, for the most part, a pretty structured set of curriculum," said Guidance Counselor Greg Yoder. "Colleges like AP because they know that there's a set amount of rigor expected from the course, and if students can perform well and earn credit on a test, then they know the students can do a certain amount of things."
However, for all their convenience, AP classes have some drawbacks. Not all colleges will accept credit from an AP class, and some will have a cap on how much AP credit you can claim. In addition, if you want to take the AP exams, you must sign up for them in November when you're not entirely sure whether or not you want to take them.
"
Colleges like AP because they know that there's a set amount of rigor expected from the course, and if students can perform well and earn credit on a test, then they know the students can do a certain amount of things."
— Greg Yoder
Kirkwood classes
Another option is Kirkwood classes. These are held at the Kirkwood Regional Center, to which students must find their own transportation or be bused. One class takes an hour and a half, whereas an AP course only occupies one class period (fifty minutes). In addition, the cost of gas adds up, and the registration process requires you to do orientation in order to register.
Although a Kirkwood class takes more time than an AP class, it has several advantages: the credits will transfer well to in-state colleges, and there are many career-focused Academies, such as: the Energy, Electrical and Automation Academy or the Pharmacy Technician Academy.
"Kirkwood classes have more to do with self studying than AP courses," said Sophie Waterman Hines '19, who is currently taking Pharmaceutical Technician Training and Pharmaceutical Technician Clinical Trials at Kirkwood. "A lot of your grade is determined on the time you put into the class. The professors are also more flexible with their schedule than high school teachers."
The school administration currently has plans to bring some Kirkwood classes into the building, thus cutting down the amount of transportation necessary to take one. By taking two classes a semester and switching classes between semesters, you could earn more credit.
"We are going to start making an effort to bring some of those classes that we offer Kirkwood back into the building, because we do have a lot of confidence in our teachers that they can offer a rigorous level of that course and provide a college-level experience here on campus," said Vice Principal Lucas DeVries. "We do a very good job with our AP classes, and we think we can do that with some other classes too."
UI classes
Last, but certainly not least is the option of taking classes at the University of Iowa. UI classes, like Kirkwood classes, are mostly taken outside of the building and take up anywhere from around an hour to an hour and a half. Like Kirkwood classes, their costs are covered by the school through the PSEO (Post-Secondary Education Option) program, although you must pay $250 to the school if you fail a UI course or drop it.
"I genuinely believe that [taking UI classes] has more benefit to the social aspects and writing and rigor aspects of college," said Diego Rivera '19, who is currently taking four courses at the University of Iowa. "If you know how to be in a college environment prior to being [at] an actual college, then you just have a huge leg up on actual college students just because it gives you more of a really good crash course on how to write college papers, how to make it to class on time, how to find your own way around campus, things like that."
Unfortunately, students are generally only able to take PSEO classes for subjects not available at West or for which they've already exhausted their options for that subject for West. Therefore, one must often take the available AP classes on a subject first before being able to take a UI class on the topic. In addition, PSEO courses are generally not available to underclassmen.
But regardless of whether you choose an AP or UI or Kirkwood class, it won't have much impact on teachers here at West.
"We've been offering Kirkwood classes and PSEO classes for many years, and it's an expectation that students are going to take classes out there," DeVries said. "The thing that impacts staffing the most is reducing numbers here on campus. You saw when Liberty High opened, we moved down 500 kids. A bunch of teachers did move out to Liberty High because we lost that many students. But we still had about the same percentage of students who were taking Kirkwood classes two years ago as we do right now."
Overall, if you're looking for a more accessible way to get college credit, AP classes are the way to go. But if you crave an experience closer to the reality of college or a better guarantee that your college credits will transfer over to the college of your choice, Kirkwood or UI classes would be better for you. In the end, whichever one you pick depends on your personal interests and resources. There is no right or wrong answer.
About the Writer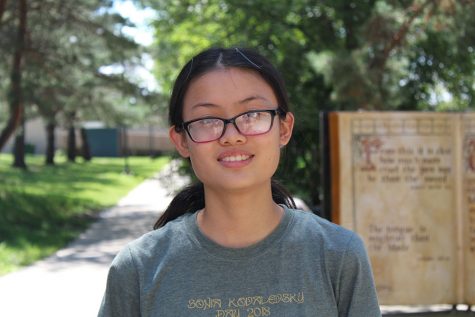 Ting Gao, Reporter
Ting Gao is a senior at West High, working as a reporter for the online section of the West Side Story. This is her second year on staff. When she isn't...